ESD Safe Long Shoes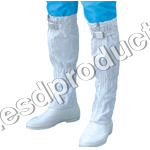 ESD Safe Long Shoes
Product Description
Our huge range of products comprise ESD Safe Long Shoes that are very popular in the market. These shoes are made of supreme quality PVC material that is procured from the trusted sources of the market. With tight fitting and lightweight soles, these products have gained a huge demand in the international market. Checked by our team of skilled and trained quality controllers, these products have an attractive design. ESD Safe Long Shoes are delivered to the clients in timely manner owing to our expert logistics team.
Features:
Light weight and comfortable
Easy to wash and dry
Best in use while inspecting electronic and semiconductor plants areas.
We use best quality textile fabric and PVC and PU Materials.
Sole of ESD shoes made with pure PVC and PU material.
Easily Wearable with best ESD performance and also weather proof
Our all shoes come with anti slip grip and chemical resistant

Perfect anti-static function with resistance
The sole area of esd shoes dissipate static electricity
Perfect choice in discharging the body static
Prevent from generate dust
| | | | |
| --- | --- | --- | --- |
| Applications: | | | |
| 1. Cleanroom | 2. Optical instrument | 3. ESD Sensitive Area | 4. Microbial Engineering |
| 5. Electronic Industries | 6. Precision Instrument | 7. Semiconductor Industries | 8. Pharmacy & Pharmaceutical Industries |
How to Use Shoes

Wear on ESD Floors
Any insulation material can damage so don't use it on sole.
Check and test resistance of shoes at-least one time in a week or every week if possible and then clean it or change it according to the test results.
Don't wear insulating woolen socks or any insulating shoe pads while going to wear antistatic shoes and conductive shoes
Antistatic shoes are not same like insulated shoes so keep in mind and use precisely .
Always wear antistatic shoes with antistatic clothing.

Maintenance:

Always clean with warm water using soft brushes with only neutral clean detergent. Don't clean in washing machine.
Clean Properly then keep in shady and cool place avoid direct sunlight and never use oven or desiccant.
After cleaning process always keep the shoes in dry and cool place in cloth or paper.
Further Details:

| | |
| --- | --- |
| Name | BS-SH-1003 |
| Category | ESD Safe Long Shoes |
| Price | On Request |
| Volume Resistance | 106-109 |
| Size | 22.5-27.5cm |
| Material | PVC, PU |