ESD Garments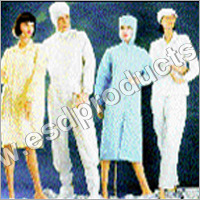 ESD Garments
Product Description
We commenced our business operation in the year 1988, to manufacture and export a finest collection of ESD Garments. Designed under the guidance of skilled professionals by using static-dissipative fabric, these garments are available in various designs, colors and patterns to select from. Our ESD Garments are widely used in various industries such as electronics, communications, telecommunications and glass. These garments are well known for their comfort, skin-friendliness and tear resistance. In addition, we can also customize these garments as per the needs of the clients.
Features:
Durable
Easily Wearable and Comfortable
Total Skin Friendly Material
Light weight
Perfect finish
Further Details:

We offer you a wide range of ESD Garment designed for using static-dissipative fabric which provides high level contamination control and esd protection, besides offering wearer with comfort and tailored to their needs. All our garments are designed and engineered to meet the strict quality, comfort and performance standards required by our customers.
More Features:
ESD Garments can protect from any injury related with (ESD) Electrostatic Discharge.
Our ESD Garments and ESD Clothing save your whole body from any electrostatic discharge.
Our ESD Garment and Clothing made in high quality material which do not allow to pass electricity current into your body.
These product made with quality materials to help you to make your work station area safe from Electrostatic Discharge (ESD)
These ESD Garments provide safety to all workers in factory area to work proficiently and protect from electric shocks due to some electricity discharge.
ESD Garments comes in various sizes and shapes that makes it easy for everyone to choose product according to their need and we also provide customized clothing.

Application:
Automotive and Automobile industry
Electronics and Electrical industry
Pharmaceutical industry

Hospital industry

Paint industry