APP Waterproofing Membrane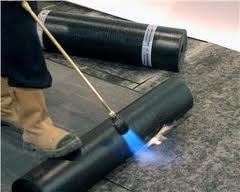 APP Waterproofing Membrane
Product Description
Our company is a widely admired name, engaged in manufacturing an exceptional range of APP Waterproofing Membrane. These are applied on basements, roof terrace, swimming pools, elevator pits and underground garages as a water proofing material. Our APP Waterproofing Membrane is processed from APP polymer at our sophisticated manufacturing unit, in complete adherence with international quality standards. We can also customize these membranes as per the needs of the clients.
Features:
Resistant to plant root, chemical and acid
High tear and puncturing strength
Well known for its excellent dimensional stability and eco friendliness
Further Details:

APP (Atactic Polypropylene Plastomeric) type modified membrane, consisting of a specially formulated bituminous compound of distilled asphalt modified with selected high grade visco-elastic polymers and reinforced with a high quality non-woven 300g polyester carrier.